See you in San Diego
Welcome to the 32nd Annual Meeting of the American Society of Retina Specialists in San Diego, California. With over 2600 members in 55 countries, ASRS continues to grow in size, scope, and vision and is committed to its ever-expanding involvement in education, service, outreach, and advocacy. We look forward to reflecting the talent and expertise of our members, and offering the very best educational opportunities and social interactions in which friends and colleagues from around the world will share to promote the advancement of retinal science.
Hotel information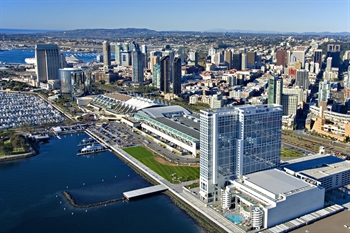 Hilton San Diego Bayfront Hotel
1 Park Boulevard
San Diego, California 92101
Phone: 800-445-8667

www.hiltonsandiegobayfront.com
Sponsor
The American Society of Retina Specialists would like to thank Regeneron for sponsoring the mobile meeting site and wifi access in the meeting area at the Hilton.
Registration hours (Sapphire West Foyer, level 4)
Friday, August 8: 2:00 - 8:00 PM
Saturday, August 9: 6:30 AM - 6:00 PM
Sunday, August 10: 7:00 AM - 6:00 PM
Monday, August 11: 6:30 AM - 6:00 PM
Tuesday, August 12: 7:00 AM - 5:00 PM
Access meeting information offline
With the exception of images and videos, all meeting information may be viewed without an internet connection. When connected to the internet, registered attendees may sign in and download the site via the "Download mobile meeting site for offline use" link in the site footer.